I have been an enthusiastic Fujifilm-X user since 2013. On this page you´ll find my camera equipment. It is also a reference, as people often ask me about my gear and how I use it.  
At present, the Fujifilm X-Pro2 and X100V are my two main camera's.
I love Fujifilm's design and continuous improvement philosophy combined with their optical and sensor performance and analog inspired controls and ergonomics. Fujifilm's heritage in color science is legendary and their digital film simulations deliver great results straight out of their camera's. My main reason for the X-system is that it is so small, light and intuitive, that it ensures not only a nice way of working. It also helps me to create an intimacy between me and my subject.
My

main setup

is the X-Pro2 with the X-E3 as a second/backup camera. 
Both cameras share the fantastic Fujifilm X-Trans III sensor and equal film simulations. In my photography, I really don't need more in terms of quality and megapixels. With these cameras, I 
mainly use the small and excellent XF23/XF35/XF50 'Fujicrons'. A very compact and high quality setup.
The XF56 F1.2 is my favourite lens for taking commercial 

portraits

. 
Almost only during my

longer travels

I use my 

two Fujinon zoom lenses. The XF35 F1.4 goes with me for low light situations.
My

smallest/go-to/travel light setup

 is my X100V with the two conversion lenses; covering at least 90% of my photography needs. Being a very compact setup, it still delivers me a 28mm, 35mm, and 50mm focal length. According to my Lightroom metadata, I have been shooting ~23mm (35mm equiv.) in 66% of all my XF16-55 photos over the past years. And 80-85% of all my photos were taken up to ~35mm (50mm equiv.) So, my X100 kit is in many situations the only gear I need.
The X-Pro1 is forever a classic. I use it for

fun stuff and exploring

the good old X-Trans I sensor quality and classic/manual lenses. My also classic XF35 F1.4 is a perfect fit. The X-Pro1 is still a great and durable camera in a lot of ways. And it definitely has a soul!
For my personal computing, I exclusively own an Apple iPad Pro M1, so my

photography workflow 

is completely iPad based. In post edit I almost always use Lightroom and sometimes Affinity Photo. Besides the Adobe Cloud and local backup, all my selected images are backupped online at Flickr.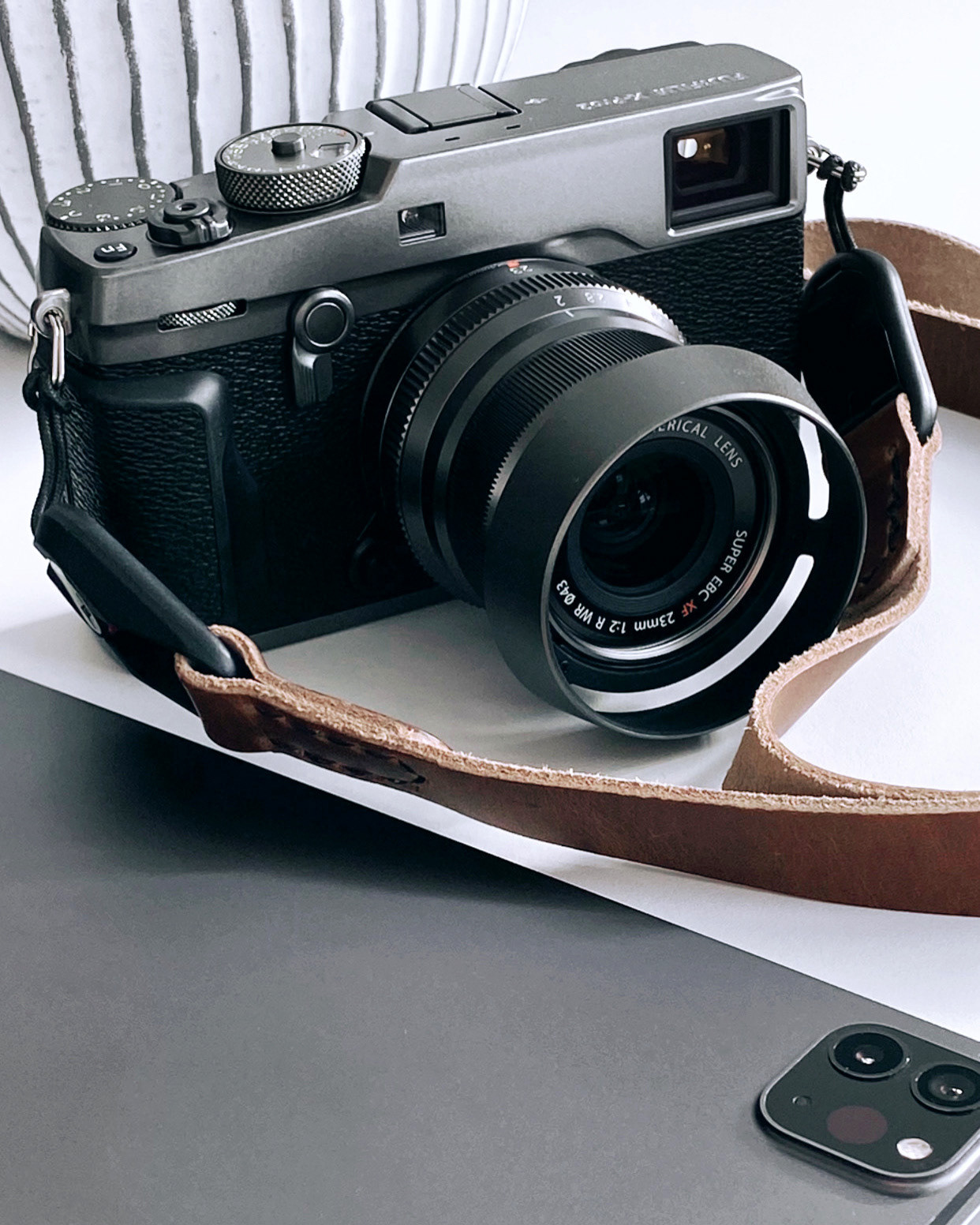 Please find below all the details and links to the respective product web pages.
• Falcon Eyes 2x GN300-AD flash units
• Falcon Eyes 2x SB6080 soft boxes
• Falcon Eyes 2x L-2600G light stands
• Falcon Eyes B8510 background support
• Falcon Eyes CRK-32SL/G circular reflector
• Falcon Eyes RF-604 trigger & receiver